Wholesale customers can place their own orders!
Email kbridgers@taylormfg.com or Fax to 910-862-2799
---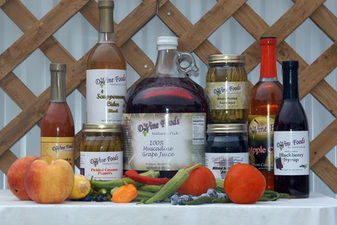 We offer...

Value Added Services

Contract Packaging

Wholesale Products

Custom Private Labeling



Call Allie Nance or Kayla Bridgers at (910) 862-2576 for more information.
---
---
With D'Vine Foods located in the heart of a fertile fruit and vegetable growing area, we specialize in making many items such as jams, jellies, ciders, juices, pickles, relishes and other products. It has also created another market for local farmers' over-produced fruits and vegetables and given them the opportunity to add value and shelf life to their products. Therefore, D'Vine Foods has created an entirely new wholesale opportunity for farmers. Consumers can now buy local grown products on a year round basis.

Come see us at our upcoming shows.

2016 Shows

Babypalooza- Fayetteville, NC
March 18-19

The Flavors of Carolina- Concord, NC
March 22

Dogwood Festival- Fayetteville, NC
April 23-24

Ladies Night Out- Fayetteville, NC
June 17

America's Mart- Atlanta, GA
July 14-18

The International Gift Exposition- Sevierville, TN
November 3-6

Grand Strand Gift & Resort Merchandise Show- Myrtle Beach, SC
December 4-7



---
Visit us & let us show you how Value Added Services promote LOCAL foods.
---