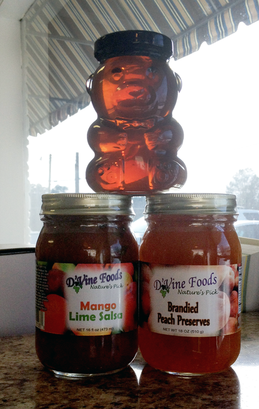 D'Vine Foods is excited to welcome three new products to our already robust product line: Honey in a special bear-shaped jar, Mango Lime Salsa, and Brandied Peach Preserves. Each product offers a unique flavor, a staple of D'Vine Foods' products.
While honey is not a new item for us, the special blend in equally special packaging makes the new 13oz Honey a must-buy.
Our Mango Lime salsa is a perfect combination of sweet mangoes and tart limes for a delicious salsa treat.
The Brandied Peach Preserves is made with real brandy but the final product remains alcohol free much like our line of Moonshine products, and is a unique take on a traditional peach preserve.